Pain Management Clinic
Dogtown is able to offer a specific and tailored service in supporting your dog with pain management.
What is pain?
Pain is a signal to your nervous system to tell you something is wrong. It is an unpleasant feeling such as prick, tingle, or, ache. It can feel sharp or dull.
Pain occurs in 2 forms, acute (1-2 weeks) or chronic (more than 3 weeks).
It can cause a general change in behaviour such as: loss of appetite, low posture, grumpy temperament, panting, crying, excessive licking/chewing a specific area, reluctant to play/interact/exercise or stiffness after rest.
What conditions can benefit?
Many conditions benefit from treatment, but some of the most common are:
Orthopaedic conditions this includes joint dysplasia, spinal condition and stifle pain.
Lameness limping and weight shifting to other limbs caused by muscle damage.
Surgical recovery allowing a quicker recovery to normal activities for your dog.
How can Dogtown help?
It is a bespoke treatment plan for your dog. To help them feel more comfortable and happier in their day to day life. It involves a combination of manual therapies and electrotherapies to improve the pain management of various conditions.
Short term pain management can be used as a form of early intervention, after surgery or an injury to avoid secondary complications.
Long term management of pain may be required in chronic cases. This is ongoing and dependent on responses to the treatment plan. Initially, more frequent sessions may be required. Eventually sessions may become less frequent once more effective pain control is established. Treatment plans need to be flexible as dogs with underlying chronic condition, may go through periods of short-term flare ups that require management.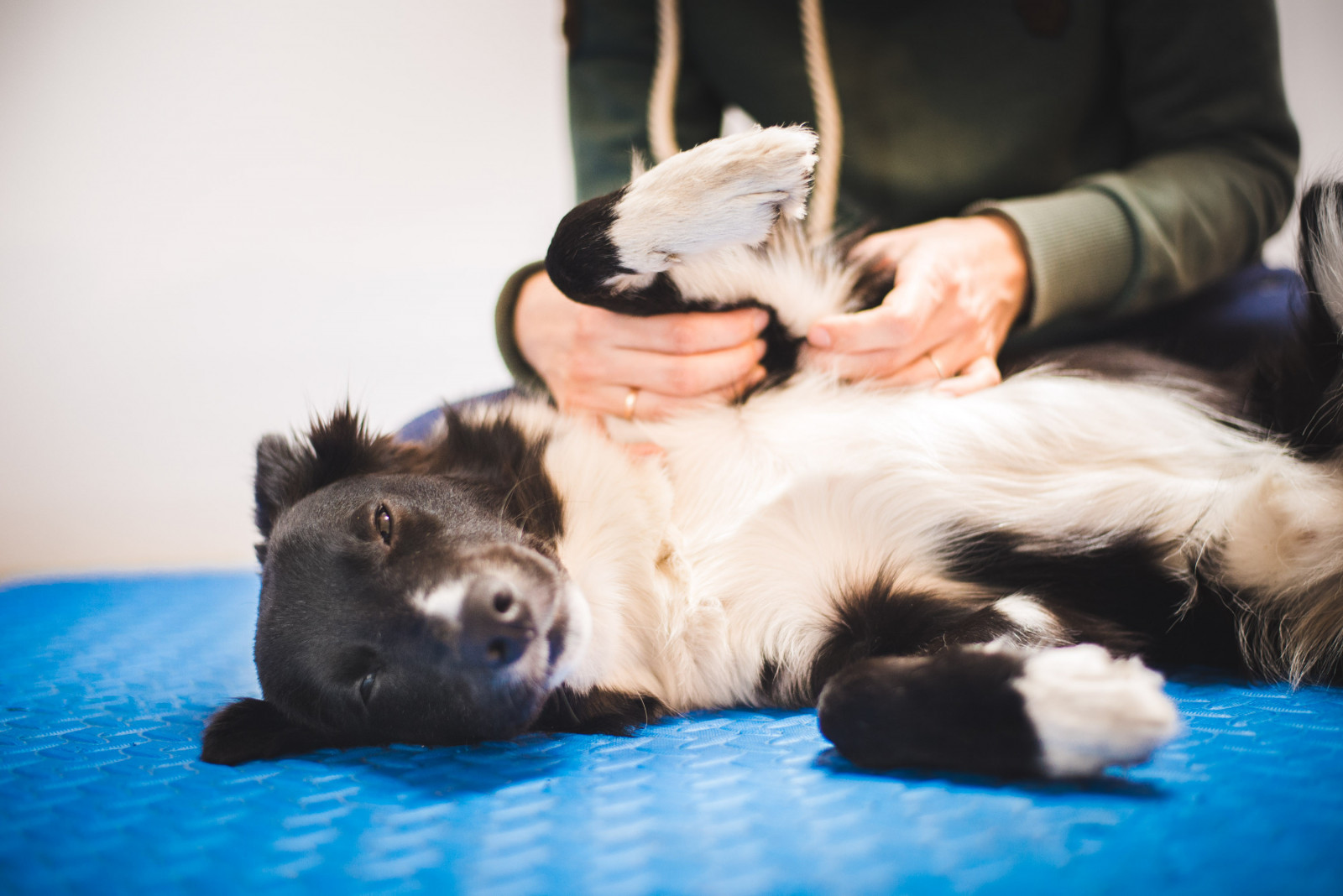 What therapies are involved?
Massage: manual therapies techniques such as massage, passive range of motion, joint compression and stretching can be used to reduce muscle discomfort, improve muscle pliability and flexibility, improve and maintain joint fluid circulation. This can be implemented throughout the day and may be prescribed by your physiotherapist.
Laser: non-invasive, deep penetrative light therapy that helps decrease pain, reduce inflammation, enhance healing, and restore function of muscles and joints. It is a versatile treatment used for a large variety of conditions such as: dysplastic joints, muscle strains and arthritis.
PEMFT: Pulsed Electro Magnetic Field Therapy stimulates the physiological processes of body's cells to aid healing and provides pain relief after an injury. Very effective with elderly dogs as it provides pain relief of common degenerative diseases like Osteoarthritis (OA), it also boosts bone fractures healing.
TENS: Transcutaneous Electrical Neuromuscular Stimulation helps reduce discomfort reduce muscle spasms caused by a wide range of conditions. It modulates pain signals transmission from the affected area to the brain to reduces pain sensation. Can be used for a wide variety of pain caused by conditions affecting the musculoskeletal system.
Cryotherapy: This can be implemented to treat inflammation and pain caused by surgery and injuries. Cold temperatures limit a temporary blood flow towards the treatment area to reduce swelling. Pain perception is reduced through the modulation of nerve transmissions through cold sensation. This can be implemented frequently throughout the day and may be prescribed by your physiotherapist.
What to expect?
In the first instance drop us an email to:
We can then arrange a time for one of the therapy team to give you a call to talk about your dog and how we could help improve their quality of life.
We will then contact your vet to get an up to date medical history and confirmation for us to proceed, we will then give you a call to set up the initial consultation.
Our therapists will carry out a full body assessment during our initial consults. This is to identify specific areas of the body that may require treatment. Our pain clinics are bespoke to each individual dog and their conditions to help provide the best treatment plans.
Treatments such as hydrotherapy and physiotherapy are typically covered by pet insurance if the treatment is carried out by a qualified therapist and has been recommended by your vet.
Different insurance plans offer cover for many types treatment and conditions; it is very important to check you own policy details as the cover does vary.
For example Pet Plan offer a fixed number of sessions ( 10 ) whilst Bought by Many is a £ value amount. Always let your insurers know before you commence any treatment.